Nemaura Medical, Inc. (NMRD), is a medical technology company developing non-invasive and minimally invasive wearable diagnostic devices, coupled with artificial intelligence capabilities for digital healthcare. The company's first product, which is CE approved and undergoing commercial launch, is the sugarBEAT® non-invasive continuous glucose monitoring device and BEAT®diabetes digital healthcare platform. sugarBEAT® is a non-invasive and flexible continuous glucose monitor (CGM) providing actionable insights derived from real time glucose measurements and daily glucose trend data, which help people with Type 1 or Type 2 diabetes and prediabetes respectively to better manage, reverse and prevent the onset of diabetes.  BEAT®diabetes is a health subscription service providing 1-on-1 lifestyle coaching and behavior change recommendations driven by personalized data provided by sugarBEAT®. Insulin users can also adjunctively use sugarBEAT® for insulin dosage purposes when calibrated by a finger stick reading.
sugarBEAT® is intended to be worn during waking hours and consists of a daily disposable adhesive skin-patch connected to a rechargeable transmitter, with an app displaying glucose readings at five-minute intervals.
Please click here to view a video of sugarBEAT®.
Please click below to view our Corporate Presentation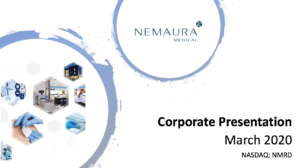 Continuous Glucose Monitoring (CGM) Total Addressable Market (TAM) – Key Points:
– The global TAM for CGM is estimated at $82Bn per annum, consisting of (i) $12.7Bn for Type 1 insulin users (5% of diabetes), (ii) $38.0Bn for Type 2 insulin users (15% of diabetes) and (iii) $31.4Bn for Type 2 non-insulin users (80% of diabetes).1 These numbers exclude the prediabetes population which is estimated at nearly three times as large as the diabetes population.
– CGM currently has low adoption rates amongst insulin users (negligible use amongst non-insulin users) and is growing rapidly. The U.S. is the largest market with estimated 2.6% (630,000 users) penetration of diagnosed diabetic market (24.6M), representing annual growth of 117% over 2017 (290,000 users). 1
– Given sugarBEAT ® is (i) non-invasive, (ii) affordable and (iii) flexible, it is expected to have wider appeal to (i) non-insulin using diabetes, (ii) prediabetes and (iii) a section of insulin-users who dislike competitor CGMs owing to their (i) invasiveness, (ii) cost and (iii) inflexibility
1 PiperJaffray Company Note DXCM Sep 5, 2018
NASDAQ:NMRD - Key Points:
- Nemaura Medical Inc. was spun out from founding company and listed on the OTC in Q4 2013, and subsequently uplisted to NASDAQ in Q1 2018
- sugarBEAT® completed a number of clinical programs to support CE approval and FDA submission
- sugarBEAT® published three interim clinical data sets in Q3 2018. Please click here to view
- sugarBEAT® wearable non-invasive continuous glucose monitoring system received CE approval at the end of May 2019, and first phase of commercial launch (involving provision of free devices to users) commenced in Q4 2019, and will be available soon for direct purchase online via Nemaura's UK distributors.
- sugarBEAT® application for registration in Germany currently in progress (as of Q1 2020)
- Licensee agreement with Dallas Burston Ethitronix Limited (DBE) to market sugarBEAT® throughout United Kingdom and Ireland
- sugarBEAT® and BEAT®diabetes seek to address three core markets. Firstly, to help people taking insulin better manage their glucose by spending more time in range. Secondly, to help people with Type 2 diabetes to reverse their condition by making lifestyle changes. Thirdly, to help prediabetes to avoid the onset of diabetes by making lifestyle changes.
- For more information about sugarBEAT® please click here. For more information about BEAT®diabetes please click here.