Nemaura Medical, Inc. (NMRD), is a medical technology company commercializing sugarBEAT® and BEAT®diabetes. sugarBEAT® is a non-invasive and flexible continuous glucose monitor (CGM) providing actionable insights derived from real time glucose measurements and daily glucose trend data, which help insulin users, Type 2 diabetes and prediabetes respectively to better manage, reverse and prevent the onset of diabetes.  BEAT®diabetes is a health subscription service providing 1-on-1 lifestyle coaching and behavior change recommendations driven by personalized data provided by sugarBEAT®. Insulin users can also adjunctively use sugarBEAT® for insulin dosage purposes when calibrated by a finger stick reading.
sugarBEAT® consists of a daily disposable adhesive skin-patch connected to a rechargeable transmitter, with an app displaying glucose readings at five-minute intervals for periods of up to 24 hours.
Please click here to view a video of sugarBEAT®.
Please click below to view our Corporate Presentation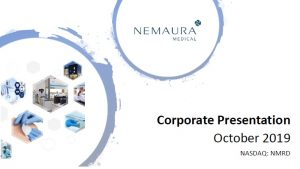 Continuous Glucose Monitoring (CGM) Total Addressable Market (TAM) – Key Points:
– The global TAM for CGM is estimated at $82Bn per annum, consisting of (i) $12.7Bn for Type I insulin users (5% of diabetes), (ii) $38.0Bn for Type II insulin users (15% of diabetes) and (iii) $31.4Bn for Type II non-insulin users (80% of diabetes).1 These numbers exclude the pre-diabetic population which is estimated at nearly three times as large as the diabetic population.
– CGM currently has low adoption rates amongst insulin users (negligible use amongst non-insulin users) and is growing rapidly. The U.S. is the largest market with estimated 2.6% (630,000 users) penetration of diagnosed diabetic market (24.6M), representing annual growth of 117% over 2017 (290,000 users). 1
– Given sugarBEAT ® is (i) non-invasive, (ii) affordable and (iii) flexible, it is expected to have wider appeal to (i) non-insulin using diabetes, (ii) prediabetes and (iii) a section of insulin-users who dislike competitor CGMs owing to their (i) invasiveness, (ii) cost and (iii) inflexibility
1 PiperJaffray Company Note DXCM Sep 5, 2018
NASDAQ:NMRD - Key Points:
- Nemaura Medical Inc. was spun out from founding company and listed on the OTC in Q4 2013, and subsequently uplisted to NASDAQ in Q1 2018
- sugarBEAT® predecessor device (based on wrist-watch format) received CE Mark approval in Q1 2016
- Submitted current sugarBEAT® format (wireless skin-patch) for date for CE Mark review in Q1 2018
- sugarBEAT® completed 525 patient day (75 patients x 7 days) European clinical trial programme in Q4 2017, and submitted for CE Mark approval in Q1 2018
- sugarBEAT® completed 225 patient day (75 patients x 3 days) FDA clinical trial programme in Q4 2018, and anticipated to submit for FDA approval in Q2 2019
- sugarBEAT® published three interim clinical data sets in Q3 2018. Please click here to view
- sugarBEAT® achieved CE Mark approval in Q2 2019, permitting product sales through the European Economic Area (including the United Kingdom)
- sugarBEAT® initial launch due Q3 2019 in United Kingdom, followed shortly thereafter in Germany
- Licensee agreement with Dallas Burston Ethitronix Limited (DBE) to market sugarBEAT® throughout United Kingdom and Ireland
- DBE was founded by Dr. Dallas Burston (MBBS), a pharmaceutical marketing entrepreneur specialising in selling breakthrough medical products into European markets
- Dr. Burston has generated $200M+ by selling some of the previous medical sales companies he founded onto big pharma (for example DB Ashbourne Limited and Ashbourne Pharmaceuticals Limited)
- sugarBEAT® and BEAT®diabetes seek to address three core markets. Firstly, to help insulin users better manage their glucose by spending more time in range. Secondly, to help type 2 diabetes to reverse their condition by making lifestyle changes. Thirdly, to help prediabetes to avoid the onset of diabetes by making lifestyle changes.
- For more information about sugarBEAT® please click here. For more information about BEAT®diabetes please click here.