Nemaura Medical (NASDAQ:NMRD) is a medical technology company which has developed SugarBEAT® as a CE Marked non-invasive, affordable and flexible Continuous Glucose Monitor (CGM) designed to help people with diabetes and pre-diabetics to better manage their glucose levels by spending more time in range. Insulin users can adjunctively use SugarBEAT® when calibrated with a finger-stick glucose reading.
SugarBEAT® consists of a daily disposable adhesive skin-patch connected to a rechargeable transmitter, with an app displaying glucose readings at five-minute intervals for periods of up to 24 hours.
Please click here to view a video of SugarBEAT®.
Please click below to view our Corporate Presentation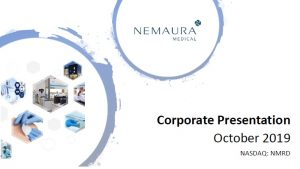 Continuous Glucose Monitoring (CGM) Total Addressable Market (TAM) – Key Points:
– The global TAM for CGM is estimated at $82Bn per annum, consisting of (i) $12.7Bn for Type I insulin users (5% of diabetics), (ii) $38.0Bn for Type II insulin users (15% of diabetics) and (iii) $31.4Bn for Type II non-insulin users (80% of diabetics).1 These numbers exclude the pre-diabetic population which is estimated at nearly three times as large as the diabetic population.
– CGM currently has low adoption rates amongst insulin users (negligible use amongst non-insulin users) and is growing rapidly. The U.S. is the largest market with estimated 2.6% (630,000 users) penetration of diagnosed diabetic market (24.6M), representing annual growth of 117% over 2017 (290,000 users). 1
– Given SugarBEAT ® is (i) non-invasive, (ii) affordable and (iii) flexible, it is expected to have wider appeal to (i) non-insulin using diabetics, (ii) pre-diabetics and (iii) a section of insulin-users who dislike competitor CGMs owing to their (i) invasiveness, (ii) cost and (iii) inflexibility
1 PiperJaffray Company Note DXCM Sep 5, 2018
NASDAQ:NMRD - Key Points:
- Nemaura Medical Inc. was spun out from founding company and listed on the OTC in Q4 2013, and subsequently uplisted to NASDAQ in Q1 2018
- SugarBEAT® predecessor device (based on wrist-watch format) received CE Mark approval in Q1 2016
- Submitted current sugarBEAT® format (wireless skin-patch) for date for CE Mark review in Q1 2018
- SugarBEAT® completed 525 patient day (75 patients x 7 days) European clinical trial programme in Q4 2017, and submitted for CE Mark approval in Q1 2018
- SugarBEAT® completed 225 patient day (75 patients x 3 days) FDA clinical trial programme in Q4 2018, and anticipated to submit for FDA approval in Q2 2019
- SugarBEAT® published three interim clinical data sets in Q3 2018. Please click here to view
- SugarBEAT® achieved CE Mark approval in Q2 2019, permitting product sales through the European Economic Area (including the United Kingdom)
- SugarBEAT® initial launch due Q3 2019 in United Kingdom, followed shortly thereafter in Germany
- Licensee agreement with Dallas Burston Ethitronix Limited (DBE) to market sugarBEAT® throughout United Kingdom and Ireland
- DBE was founded by Dr. Dallas Burston (MBBS), a pharmaceutical marketing entrepreneur specialising in selling breakthrough medical products into European markets
- Dr. Burston has generated $200M+ by selling some of the previous medical sales companies he founded onto big pharma (for example DB Ashbourne Limited and Ashbourne Pharmaceuticals Limited)
- SugarBEAT® seeks to address two core markets. Firstly, as an adjunctive Continuous Glucose Monitor (CGM) by insulin using persons with diabetes who dislike competitor CGMs owing to their invasiveness, cost and inflexibility. Secondly, as a non-invasive glucose trending device for all persons with diabetes and pre-diabetics, providing an Ambulatory Glucose Profile (AGP) as a superior metric to better manage their sugar levels as compared to a HbA1c reading.
- For more information about SugarBEAT®, please visit www.sugarbeat.com